'Bloodmobiles' in Norfolk, Suffolk and Cambridgeshire axed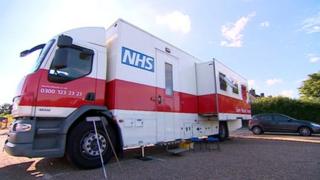 The four mobile vans used by people to donate blood in rural areas of East Anglia are being taken off the road, it has been revealed.
The bloodmobiles, which serve Norfolk, Suffolk and Cambridgeshire will be phased out over the next few months, NHS Blood and Transplant (NHSBT) said.
It said it hoped to save money by getting more people to donate in temporary sites and permanent centres.
But objectors said it would make it harder for people to give blood.
'Personal service'
NHSBT said blood could be collected more cheaply and efficiently from sites such as village halls, and from the fixed centres in Cambridge, Luton in Bedfordshire and Brentwood in Essex.
"Like any organisation that receives money from the public purse, we have a responsibility to deliver our services as efficiently and effectively as possible so that more money can be spent on frontline patient care," said Jackie Morgan, regional operations manager for NHSBT.
"By making some changes to our session timetables and where we hold our sessions, we will be able to run a more efficient service while still meeting the needs of patients."
Angie Wilson of Norwich said she used the Norfolk bloodmobile because she worked full-time and it was a convenient way for her to give blood.
"I don't understand it at all," she said.
"They're always crying out for more donors... so why are they making it harder for people to do it?"
Keith Swetman of Barton Turf near Stalham in Norfolk, who has donated more than 100 pints (56 litres) of blood over 50 years said he had written to his MP objecting to the withdrawal of the bloodmobiles.
"For people who use them, it's a much more personal service than the big sessions where you're just being processed," he said.
Ms Morgan said she was aware that the changes would mean some people would not continue to give blood.
"We understand that some donors may decide to stop donating as it may become less convenient for them," she said.
"If they choose to do so, we would like to thank them for all the lives they have helped save already and all the time they have given up to donate blood."
Each bloodmobile currently collects a maximum of about 40 units of blood in a five hour session.