Final Longbridge factory Mini sold at auction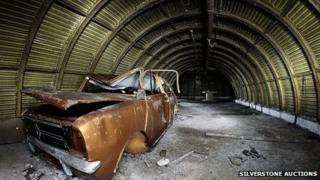 The last Mini to leave the Longbridge factory has sold for £1,400 after being hidden in tunnels for more than 30 years.
Workers used the Mini Clubman 1275 GT to travel around the car plant in Birmingham, but it was dumped in the late 1970s after being damaged.
It was recovered last year ahead of the tunnels being filled in.
The car has been auctioned by Silverstone Auctions at the Silverstone racing circuit in Northamptonshire.
It was part of its Classic Car, Motorcycle, Automobilia and Lifestyle sale.
The car was left in the tunnels after being damaged when a storage container fell on it.
The Mini was saved last year by a former factory worker, who recovered it before the tunnels were filled in for development work due to take place on the site, making it the last Mini to leave Longbridge.
Silverstone Auctions has said the vehicle was missing its engine and gearbox.
The last original Mini rolled off the production line at the plant in October 2000.