Balmoral cruise liner rescue: Woman, 85, winched off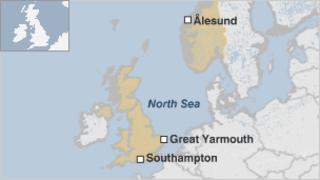 A woman has been winched off a cruise liner off the Norfolk coast after becoming ill with a potentially "life-threatening" condition.
The passenger, believed to be from Hampshire, was on board the Balmoral, sailing from Southampton to Norway.
A helicopter from Wattisham Airfield in Suffolk flew to the ship, which was in heavy fog, 40 miles (64km) east of Great Yarmouth, at about 07:00 BST.
The woman, 85, was taken to the Norfolk and Norwich University Hospital.
Her condition is not known, but winchman/medic Sgt Duncan Bowden said: "She had a condition that could have turned life-threatening and she needed to get to a hospital."
He described the rescue on Saturday as "extremely challenging" because of the weather conditions.
"Visibility was down to about 50m (165ft) and the ship was completely enclosed in fog," he said.
"We had to use radar to locate the vessel because we could barely see."
He added: "It was lucky there was a doctor on board the ship who had been able to treat her before we arrived."