Rockwood Pigments: Suffolk chemical fire averted by 'quick thinking'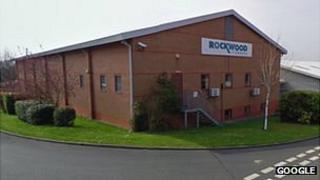 A fire which threatened to ignite a large quantity of chemicals at an ink factory in Suffolk has been prevented by "quick thinking" firefighters.
Nine crews from Suffolk and Essex tackled the fire at Rockwood Pigments on the Chilton Industrial Estate in Sudbury at about 07:30 BST.
Incident commander Will Tell said: "Local officers were very aware of the danger and called for extra crews."
The fire was contained inside the building.
The blaze started outside the single-storey factory unit, which contains paint additives.
It spread inside the building, but was put out before it reached the chemicals.
Mr Tell, from Suffolk Fire and Rescue Service, said: "One of our biggest concerns was the large quantity of chemicals inside the building, and we worked very hard to make sure the fire didn't spread to that.
"The on-site staff provided us with all the information about which chemicals were involved, helping us make the right decision about how to minimise any further risk."