Ambulance 999 emergency telephone only advice rises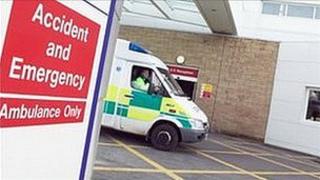 The number of 999 calls for ambulances in the West Country, which are resolved through telephone advice only, has more than trebled over the past three years.
Health and Social Care Information Centre (HCSIC) figures show ambulances were not sent to 15,900 calls in 2012/13, compared to 4,400 in 2009/10.
The figures relate to the Great Western Ambulance Service, which ceased to exist earlier this year.
A spokesman said 999 calls were now dealt with more effectively.
In February the former Great Western Ambulance Service NHS Trust, which covered Bristol, Somerset, Gloucestershire and Wiltshire, was merged into the South Western Ambulance Service NHS Foundation Trust (SWASFT), which also covers the rest of the south west of England.
Figures for SWASFT show the number of 999 calls dealt with by telephone advice alone also more than doubled between 2009 and 2013.
The computer program used by emergency medical dispatchers now gives them a framework to determine how urgent a call is based on specific information callers give them.
Paul Greatorex, from SWASFT, said: "In the old fashioned way we would send an ambulance to all calls but now we triage those calls to make sure they get the most appropriate response.
"Over the past years the NHS has been under pressure to deliver the service in a more quality and effective way, but you can't just stop the demand without putting something else in its place.
"We had to take a radical view. You can't stop patients dialling 999 because it is a cry or a call for help, or they are looking for some service, so we had to look within our own services about how we could best deliver another option."
A total of 282,000 emergency 999 calls were dealt with by the former Great Western Ambulance Service between April 2012 and January 2013. In the same area in 2009/10 a total of 295,900 calls were received.