Water firms in East of England 'rip off' customers, claims MP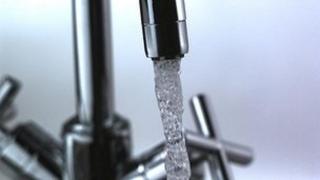 Water company directors in the East of England have seen their pay soar as customers faced inflation-busting hikes in bills, an MP's research has claimed.
Robert Halfon, Conservative MP for Harlow, says water bills and senior pay at five firms have risen since 2008, but some figures have been disputed.
He believes leakages are also too high and says directors' pay and bonuses in some cases had more than doubled.
Water regulator Ofwat said it was "making changes" to keep bills down.
In research written by Mr Halfon called "Watergate - The Great Eastern Region Water Con", the MP analysed the results of Affinity Water, Anglian Water, Cambridge Water, Essex and Suffolk Water and Thames Water in the past five years.
The firms serve properties in Norfolk, Suffolk, Essex, Cambridgeshire, Northamptonshire, Bedfordshire, Buckinghamshire and Hertfordshire.
'Immediate inquiry'
Mr Halfon said all five firms had sharply increased their bills over the five year period, but some still had poor leakage rates - despite them all coming down - and senior staff were being paid "huge bonuses".
He called for an "immediate inquiry" by the Environment, Food and Rural Affairs (EFRA) Select Committee into the role of water regulator Ofwat and how much water firms are charging.
He said Ofwat must also impose tougher targets on companies to reduce leakage, with serious penalties for breaches. He added that any firm which consistently pushed prices above inflation without reducing leaks should also pay a windfall tax.
He concluded that customers' bills must also clearly state how much profit a company made, how much they reinvested in infrastructure, the level of their water leakage, how much directors are paid and what the average bill has increased by across the period.
Mr Halfon said: "For the last five years, water customers in the eastern region have been victims to the great water company rip off.
"Customers are unable to choose who their water provider is and so this problem urgently needs addressing."
Anglian Water said its bills were on average "a little over £1 per day" and there would be no "bill increases above inflation in the five years to 2020".
It added it makes a "huge contribution" to the economy and its leakage was less than half the national average.
Essex and Suffolk Water said its prices "reflect the need for essential investment in the region."
Thames Water said its directors' pay had fallen by almost 50% in the past three years and its bills were the second lowest in the sector.
Mr Halfon later admitted figures in his report relating to pay and bonuses at Affinity Water were incorrect.
The company had said it "did not recognise" the directors' remuneration figure referred to in the report and said remuneration fell from £530,000 in 2011-12 to £442,000 in 2012-13.
Affinity Water also said: "We appreciate that household budgets are under pressure and we are managing our business to hold down costs. Between 2007-08 and 2012-13, average household bills in our central region have reduced in real terms from £174 to £173."
Cambridge Water said it was unable to respond to the BBC's request for comment.
An Ofwat spokesman said: "In the 24 years since privatisation, £111bn has been invested in the water industry, service for customers has improved significantly, our drinking water quality is among the best in Europe, and average bills are £120 lower than they would have been without regulation.
"But we are not standing still. We are making changes to keep bills down and make sure companies become a lot better at delivering what their customers want."
Correction 1 August 2013: An earlier version of this story included figures for Affinity Water from Robert Halfon's report that Mr Halfon has subsequently admitted were incorrect.