Archbishop of York: Prostate cancer 'completely removed'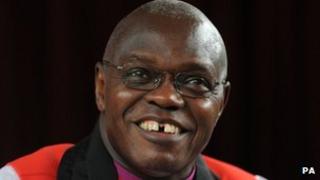 The Archbishop of York's treatment for advanced prostate cancer has been successful, he has revealed.
Dr John Sentamu, 63, the second most senior cleric in the Church of England, underwent surgery at St James's Hospital in Leeds in May.
In a statement, Dr Sentamu said the cancer had been totally removed and he thanked the staff who had treated him.
He had been given an "excellent long-term prognosis", Dr Sentamu added.
'Tsunami of love'
"My advanced localised cancer of the prostate was thankfully just outside, but otherwise confined to, the prostate gland and was completely excised/removed by the surgeon and his team," said Dr Sentamu.
The Archbishop said he had received "a tsunami of love and prayers, emails, letters, cards and flowers" from well-wishers after announcing he had undergone treatment for cancer.
Dr Sentamu, who became the 97th Archbishop of York in 2005, fled to the UK from Uganda in 1974 after speaking out against the regime of Idi Amin.
He was ordained five years later and became Bishop of Stepney in 1996.
Six years later he was appointed Bishop of Birmingham before becoming Archbishop of York in 2005.