Prince Charles to deliver royal baby congratulation card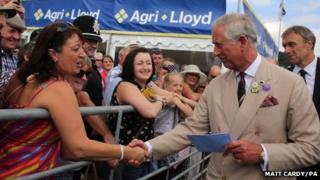 The Prince of Wales agreed to deliver a card containing a £10 note from a Herefordshire woman congratulating the Duke and Duchess of Cambridge on the birth of their son.
Amanda Winney, from Leominster, gave the card to Prince Charles at the Royal Welsh Show in Powys.
The 49-year-old police community support officer took the card in the hope she would meet the prince.
"It was the chance in a lifetime to give it to a royal baby," she said.
"What do you do for all these hundreds who are born in the world - you give them a gift.
"Just because he's a royal baby doesn't mean you don't do the same."
Mrs Winney said the prince thanked her for the card and said he would "pass it on" before giving it to one of his security guards.
The prince was on an official visit to the to the annual agricultural show, held at Llanelwedd, Builth Wells, Powys.
Mrs Winney hopes the new royal parents will spend the money on a cuddly toy.
"Or they can put it towards his millions," she added.