Tatton Park flower show opens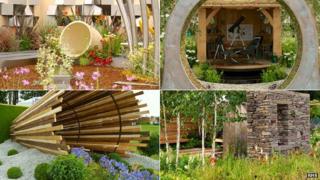 An annual flower show created as a "sister to Chelsea and Hampton" opens in Cheshire later.
The Tatton Park Flower Show, which was first held in 1999, was created by the Royal Horticultural Society (RHS) to complement the southern shows.
Organisers said they were expecting around 80,000 visitors across four days on the 28 acre (11 hectare) site.
As with Chelsea, the show organisers award medals to exhibiting gardeners, with nine being given golds this year.
The awards, which have been given out ahead of the show's opening, have been made in a number of categories, such as Best Large Garden and Best Galaxy Garden, an award inspired by the nearby Jodrell Bank Observatory.
The Best Large Garden crown went to Phil Hirst, who won gold for A Stainless Century, which celebrates the invention of stainless steel in Sheffield 100 years ago.
Four galaxy gardens were also awarded gold - Mike Russell's The Star Gazer's Retreat, Howard and Dori Miller's Watch This Space, Leon Davis and Brendan Vaughan's Gravitational Pull and Peter Styles' Life on Enceladus.
The Star Gazer's Retreat is a woodland glade which houses an observatory, while Gravitational Pull, which also won Best Galaxy Garden, centres around a wooden black hole.
Life on Enceladus was inspired by the recent news that one of Saturn's moons could be a home to life forms and Watch This Space looks forward to an event later this year, when a huge cloud of dust and gas will encounter the black hole at the centre of the Milky Way.
'Ecologically diverse'
Also gaining gold were Louise Harrison-Holland's Alzheimer's Society Remember to Reflect Garden, Mary Hoult's Networks: A Garden for Cancer Research, Graham Hardman's Reflections of Japan and Tony Woods' Escape To The City.
Mr Woods' garden, which the RHS said was "designed to deliver a message to garden owners that you don't have to compromise on design to have an ecologically diverse garden", also saw him named the organisation's National Young Designer of the Year.
The title is bestowed on gardeners aged 28 and under.
The Best Small Garden award was the only one not given to a gold medal winner, with Clive Mollart and Clive Scott's silver medal winning Sound Idea taking the title.
The show runs until Sunday at the National Trust property near Knutsford.