Watford Metropolitan line Tube extension gets go-ahead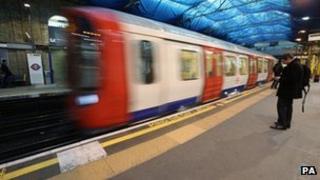 An extension to the London Underground's Metropolitan Line to serve the centre of Watford has been given the final go-ahead.
The government gave the £118m Croxley Rail Link the all-clear through the Transport and Works Act Order.
The line will be extended to Watford Junction via Watford High Street and two new stations will open, including one near the town's football ground.
Construction will begin next year, with the re-routed line due to open in 2016.
Transport for London has previously said the scheme would see trains run to central London every 10 minutes during peak hours.
After Croxley, the current Watford station will be moved and renamed Ascot Road and a new station will stop at Vicarage Road, serving the town's hospital and football stadium.
'Make it a reality'
Hertfordshire County Council said it would be the largest infrastructure project it had ever delivered and the first new railway line built in the county since 1925.
It said the link would support growth and economic development in south-west Hertfordshire, as well as improving connections into London and reducing the strain on Watford's road network.
Terry Douris, cabinet member for highways, said: "We've been talking about the Croxley Rail Link for years and this decision finally means we can move the scheme off the drawing board and make it a reality.
"Detailed design work is already underway and as part of this we will be talking to the people directly affected by the project to see what we can do to minimise any inconvenience or disruption."
The government's Transport and Works Act Order grants the project the relevant planning permissions, access rights and land transfers necessary for the scheme to go ahead.
Gareth Powell, London Underground's director of strategy and service development, welcomed the decision and said the project was being led by the county council but LU was working with and supporting the authority to support.
"Construction work is due to begin in 2014 and a more detailed works programme will be published once detailed engineering designs are completed," he said.
"The delivery of the project will need to be co-ordinated with the forthcoming signalling upgrade of the Metropolitan line and we are working with Hertfordshire County Council to ensure that happens."