'Home-made' plane pilot wins aerobatic title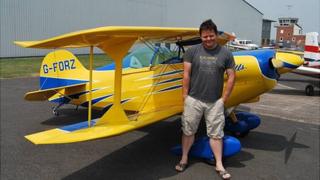 A pilot from Oxford who flies an aeroplane which he built himself has been named UK aerobatic champion.
Neil Parkinson, 40, built his Pitts Special biplane at Gloucestershire airport where he also keeps the aircraft.
He was crowned British Aerobatic Association champion after winning the standard level national championship at Conington airfield near Peterborough.
Mr Parkinson said he was "over the moon" to have won.
The commercial pilot, who has been flying since he was 13, began building the aircraft in 1997 but it lay in his garage for nearly a decade before he completed it in 2012.
"I started it in 1997 with some plans and drawings. You buy the metal and you buy the wood, get a saw and you make an aeroplane," he said.
"At the millennium it looked like a fuselage and then it sat dusty in my garage for about 10 years until about three years ago I thought I'd better finish it."
The competition is judged on a series of set manoeuvres such as loop the loops, rolls, dives and climbs.
Mr Parkinson said: "Obviously I can't do aerobatics at work because it scares the passengers, and it's quite nice to do something like this on your days off to shake the cobwebs out."
Darren Lewington from Gloucestershire airport said: "To have built the aircraft himself and taken it to the top of the championship is a remarkable achievement."
A spokesman for the British Aerobatic Association said it was "not unusual" for a pilot to build his own aerobatic aircraft.