Austin Mitchell, Grimsby Labour MP, has heart surgery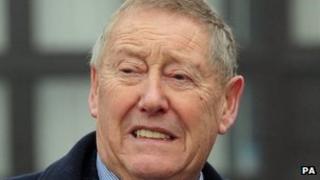 Labour MP Austin Mitchell is recovering in hospital after undergoing surgery to repair a leaky heart valve.
Mr Mitchell, who has been MP for Great Grimsby for 36 years, underwent three hours of open heart surgery at King's College Hospital, London, on Monday.
The MP's heart condition was discovered after he was taken to hospital after fainting in the Houses of Parliament, his wife Linda McDougall said.
Mr Mitchell, who is 78 years old, was "absolutely doing fine", she said.
"The first thing they ask you when you wake up is who you are and Austin was perfectly sure his name was David Cameron," she said.
"His first remarks to me when I arrived were, 'Who the hell are you?' It seemed to me he was just fine."
Legendary status
Mr Mitchell, who was born in Bradford in 1934, moved to New Zealand in the late 1950s to lecture at the University of Otago before returning to the UK in the late sixties.
He was a regional TV journalist for Yorkshire Television between 1969 and 1977, apart from brief spell at the BBC in 1972 when he said he was frustrated by the "stultifying" bureaucracy.
His 1975 interview with Brian Clough and Don Revie - on the night Clough was fired as Leeds United manager after just seven weeks - has achieved legendary status in British football.
Mr Mitchell was elected as Labour MP for Great Grimsby in 1977.
In October 2002, he briefly changed his name to Austin Haddock to boost the profile of his constituency's struggling fishing industry.
The MP saw his parliamentary majority slashed by the Conservatives in 2010, hanging on to his seat by just 714 votes, in what has traditionally been a safe Labour constituency.