Council backs second Gatwick runway amid job loss fears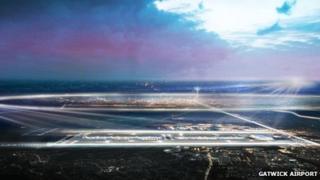 Councillors have backed a second runway at Gatwick Airport, fearing a loss of 10,000 jobs if a new hub for London is built in the Thames Estuary.
West Sussex County Council (WSCC) voted in favour of the expansion of Gatwick as part of the solution to increase the UK's airport capacity.
WSCC leader Louise Goldsmith said an estuary airport would see business move away from both Gatwick and Heathrow.
Residents against Gatwick's expansion said the vote was in "unseemly haste".
The council's support for the second runway at Gatwick came on Friday, the final day for submissions to the Davis aviation commission.
Gatwick's submission includes the airport's preferred location for a second runway, which is to be made public on Tuesday.
It has engaged leading architect Sir Terry Farrell.
London Mayor Boris Johnson's three proposals to the commission include a four-runway hub on an artificial island in the Thames Estuary, previously dubbed Boris Island.
He also proposed a hub on the Isle of Grain in Kent or expanding Stansted airport.
Heathrow has proposed three options for a new runway in West London and Surrey.
Ms Goldsmith said a Thames Estuary airport would be a "terrific issue" for Heathrow and Gatwick.
"We would see businesses moving away," she said.
"In some of the statistics about business shifting away we could be losing 10,000-plus jobs.
"That would be very, very serious for us but I actually think that Boris Island is the wrong option."
Ms Goldsmith said the council needed a mandate in the discussions ahead about the future of the South East's airports.
"We will have no influence whatsoever as strategic planning authority on what is decided but we do have a voice," she said.
"We believe we need a very strong economy in West Sussex.
"We are aware of issues about air quality, noise and infrastructure but the best position for us is saying, 'We support this in principle but how are you going to manage it?'"
Gatwick Area Conservation Campaign has long opposed a second runway at the airport.
It believes the plans will cause widespread blight, with tens of thousands of pounds knocked off the value of thousands of people's houses in Sussex and Surrey towns as far afield as Dorking, Reigate and East Grinstead.
Vice chairman Peter Barclay said the WSCC vote was premature.
"We consider it was an appallingly rushed debate with two days' notice," he said.
"Gatwick isn't announcing its plans until Tuesday and no decision is going to be made by the government for two years."
Chairman Brendon Sewill added: "We expect it will be reversed within a year as the full impact of a new runway becomes apparent."