Historic shipwrecks lost in English seas to be surveyed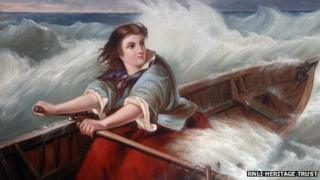 The site of a shipwreck whose crew was rescued by Grace Darling is one of 88 lost wrecks in the seas around England to be investigated by archaeologists.
Nine people were rescued by her and her father when SS Forfarshire sank off the Northumberland coast in 1838.
Now divers are to explore dozens of wrecks lost before 1840 in a bid to find the most important historic sites.
The project, which begins late August, includes vessels which sank off the Isles of Scilly and the Cumbrian coast.
The aim of the project, being carried out by English Heritage on the 40th anniversary of the Protection of Wrecks Act, is to give the most important sites protected status.
The Flying Joan
Maritime designation adviser Mark Dunkley, said: "Watercraft tell a fascinating story of England's military, industrial and social history, but very little is known about those that existed before 1840.
"That's why we are taking the initiative to investigate pre-1840 ships and boats, from wooden sailing vessels to the very start of iron hulled steam ships.
"We want to help ensure that future generations can understand and value these important sites."
The oldest ship to be examined is a possible Tudor wreck on Walney Island near Morecambe Bay, which is thought to be an armed vessel similar to the Mary Rose.
Other wrecks include Sir Walter Raleigh's lost vessel The Flying Joan, thought to have sunk off the Isles of Scilly in 1617 and an early barge called a Mersey flat located in the north-west.
Wrecks predating 1840 make up just 4% of the 37,000 known and dated sites, with most post-1914.