Ray Wilkins guilty of drinking and driving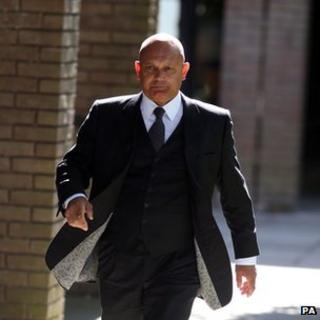 Former Chelsea, Manchester United and England footballer Ray Wilkins has been found guilty of drinking and driving.
Tests taken at a police station showed he was almost three times the legal limit when he was stopped near his home in Cobham, Surrey, in May 2012.
In March 2013 while Wilkins, 56, was on bail, he was stopped and found to be nearly four times over the limit. He was disqualified for two years.
Wilkins was given a 12-month community order and a three-year driving ban.
Wilkins was also instructed to pay £4,000 in costs at North Surrey Magistrates' Court.
The midfielder, who also played for clubs including Rangers and AC Milan, had claimed he had been sipping water "all evening" while at an awards ceremony in Bournemouth.
'Extremely tired'
But, on Monday, the court heard the Sky Sports pundit slurred his words when pulled over and CCTV footage of Wilkins swearing at police officers was shown.
Wilkins had left Bournemouth at about 23:00 on 6 May 2012, and was pulled over two hours later.
He slurred his words and leaned on his Jaguar for support when stopped, magistrates heard.
It was alleged his car had "lurched" forward and hit a traffic island.
PC Nicholas Skidmore, who pulled over Wilkins, told the court: "There was a strong smell of intoxicating liquor in the vehicle and around him.
"When he got out of the vehicle, he couldn't stand up properly," he said.
"He had to lean against the car."
The court also heard he fell asleep in a police patrol car and later swore at officers.
Rehabilitation course
Wilkins' claims that the breath tests results were unreliable were rejected by District Judge Timothy Workman.
He said: "In light of the evidence of his driving, smelling of intoxicating liquor, his unsteadiness of his feet and the handheld device reading of 109, I'm unable to accept his evidence about the amount of alcohol he consumed.
"Having considered all the evidence including the circumstances of his arrest, the roadside breath test and the procedures at Reigate police station, I find the (breathalyser) was working correctly at the time Mr Wilkins provided the sample and I'm satisfied so that I'm sure the defendant was driving having consumed alcohol above the proscribed limit."
As part of the latest sentence Wilkins must carry out 120 hours of unpaid work.
His disqualification can be reduced by 36 weeks if he completes a driver rehabilitation course, the judge said.
Wilkins' barrister told the court that "extenuating circumstances" should be taken into account, the details of which were undisclosed.
Phillip Lucas, defending, said Wilkins did not wish for these details to be revealed but said they "may explain" the two offences.
The footballer won 84 caps for England and played for clubs including AC Milan, Chelsea and Manchester United during a career that spanned three decades.
In 1993 he was made an MBE for services to football.