The football clubs rearranging stadiums to help their teams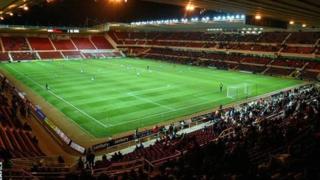 For football fans, the start of a new season is often met with relief that the waiting is over and things can get back to normal.
Fans find joy in the well-worn routines of going to the match, catching up with mates and the familiarity of their home stadium.
The start of the 2013-14 campaign for Middlesbrough supporters, however, represents the biggest change since the club moved from its old Ayresome Park ground.
In choosing to "reconfigure" the Riverside Stadium, the Teessiders have joined a growing trend of clubs revamping their homes with the aim of helping their team on the pitch.
'Definite science'
Boro boss Tony Mowbray backed the move, which means home fans will be be able to sit behind both goals, just a year after neighbours Sunderland made similar changes to the Stadium of Light.
Martin O'Neill was in charge on Wearside when away fans were shifted from their plum spot behind the goal after Aston Villa's Villa Park was overhauled during his time as manager.
Sunderland's media and communications manager Louise Wanless said the switches were ordered by the club's American owner Ellis Short.
"There was a definite science behind it," she said. "It wasn't just done on a whim. It was all about the impact it would have on the team.
"The players themselves had noticed that sometimes if they were shooting towards the South Stand and there were 3,000 away fans there it was almost like playing away from home."
Sunderland were also concerned about the negativity caused by "great swathes of empty seating" behind the goal for games that attracted only small numbers of away fans.
The issue of empty seats in areas picked up by television cameras was also a factor at Middlesbrough.
"TV is something that we're aware of but it's not the main driver," head of supporter services Anthony Emmerson said.
"We agree with fans that it doesn't look great."
From Saturday's season-opener against Leicester City, ticket offers for Boro fans aged under 21 will encourage younger supporters to migrate to the stadium's South Stand with visitors moved to the side of the pitch.
Mr Emmerson said: "In terms of The Riverside, away fans will still have a good view but we were keen to get home fans behind both goals.
"More than ever at The Riverside you can go and watch the game in an area that suits you.
"As the football fan grows through their supporting life, perhaps they can evolve from one space to the other."
Feng shui professional Paul Darby has worked in sports grounds for many years after he was approached by the Football Association when cup finals were being played at Cardiff's Millennium Stadium while Wembley was undergoing redevelopment.
Mr Darby is currently working with three Premier League clubs and said the use of feng shui in football was evolving.
"Gone are the days when feng shui was about burying crystals under the pitch.
"It's now all about positioning and space."
Managers appear to have had input into many of the recent changes.
Leeds United's Elland Road ground was restructured at the behest of former manager Simon Grayson but Neil Warnock, the man who replaced Grayson, was said to be against the move.
'Like watching Subbuteo'
Changes made to Chelsea's Stamford Bridge, when away fans were moved to behind a goal and away from the dugouts, were said to have been instigated by Jose Mourinho, Trizia Fiorellino, the chair of the club's supporters group, explained.
"The away fans were moved during Jose Mourinho's first stint. The rumours are that it was Mourinho himself that asked it because he felt that away fans were directly affecting referees' decisions.
"Personally, I think it's had a really detrimental effect on the atmosphere at Stamford Bridge.
"I think it's done more harm than good."
Ms Fiorellino said the trend of housing visitors far from the action was an inconvenience that would make some supporters consider not travelling.
Away ends at grounds like St James' Park, Newcastle, are so high up "it's like watching Subbuteo," she said.
"I like grounds where you're virtually on the pitch," she said. "If you're next to the area where the vociferous home fans are, then all the better."
Clubs often try to "restrict" away fans, Mr Darby said.
"You're trying to keep them in a part of the ground that has a very low energy and where that energy is isolated."
He accepts "lots of people" insist feng shui is unscientific.
"It's good that there's doubt, rather than having people accepting things obsessively," he said.
"Clubs are always concerned about what fans will think about what they're doing, even if it works."