County Durham otter population making 'natural' recovery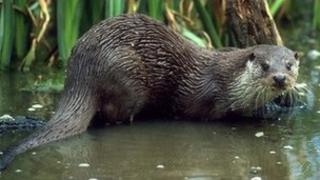 Conservationists say the population of otters in County Durham is making a "natural but slow" recovery.
Durham Wildlife Trust carried out a survey of the species in April to judge current numbers after the population declined between the 1950s and 1980s.
Of the 517 sites surveyed between the rivers Tyne and Tees, 42% were positive for otter signs and another 13 had "possible but inconclusive" signs.
The trust said the findings would provide a base for future surveys.
Otter project officer Vivien Kent said: "Many people will know that between the 1950s and the 1980s otter populations across the country went into severe decline, to the point that the species was in danger of extinction.
"This was caused by the combined effects of pollution and habitat destruction. The decline was so severe that in a national survey of England, carried out between 1977-1979, evidence of otters were only found at 6% of the sites that were surveyed.
"Since this time, otter populations have been making a natural, but slow, recovery and this survey underlines that point."
The trust has been running an otter project since April 2010 to restore habitat and encourage otters back to waterways.