Horden shootings: Minister rejects new gun law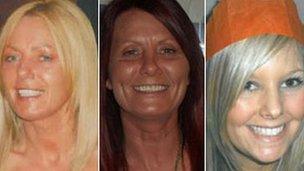 A man whose mother, sister and aunt were killed by a gunman, has criticised ministers for rejecting calls to ban people with violent pasts owning guns.
Policing Minister Damian Green said the government would instead issue "tough new guidelines" to police forces on how they should license firearms.
Michael Atherton shot his partner Susan McGoldrick, her sister Alison Turnbull and her daughter Tanya at his home.
Bobby Turnbull accused the government of "pussy-footing around" the issue.
Atherton, 42, carried out the killings at his home in Horden, near Peterlee in County Durham, on New Year's Day 2012 after a row. Afterwards he killed himself.
He legally owned shotguns and firearms despite a history of violence, which was known to Durham Police.
The killings resulted in a critical report by the Independent Police Complaints Commission into how the force handled Atherton's licence application.
On Tuesday, Mr Green rejected Labour calls for fresh legislation, telling MPs the government would instead issue tougher guidelines on how firearms should be licensed.
Mr Turnbull has campaigned for a change in the law and said he was "hopeful" after a meeting with Mr Green earlier this year.
Speaking after the government's decision on Tuesday he said: "Damian Green and the Home Office are pussy-footing around the subject because they do not want to upset Tory voters.
"It's a joke that they are sticking by changing the guidelines rather than changing the law.
"How long before the police are making sloppy decisions and they are again giving guns to pieces of dirt like Michael Atherton?"
Labour had called on the government to back its amendment to the Anti-Social Behaviour, Crime and Policing Bill which would change the law so that those who had a history of domestic violence could not own a gun.
The bill is at committee stage in the House of Commons.
Mr Turnbull vowed to carry on fighting, adding: "It just makes me more determined.
"I know for a fact I will get the law changed, it will just take a bit longer."
Related Internet Links
The BBC is not responsible for the content of external sites.