Fraud claim soldier David McIntyre to be extradited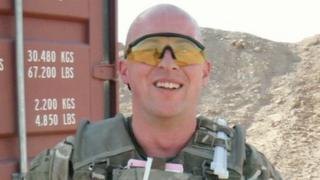 A former soldier who said he would rather kill himself than face fraud allegations in the US has been told by the government he will be extradited.
Home Secretary Theresa May made the decision despite David McIntyre's claims he has post traumatic stress disorder, his solicitor said.
Mr McIntyre, 42, from Hyde, Greater Manchester is accused of overcharging for security services in Baghdad, Iraq.
He said he could face 20 years in jail if convicted in the US.
The eight counts of fraud relate to claims he overcharged a US peace group for a security contract when he was running his own firm, Quantum Risk, between December 2008 and July 2009.
His lawyer, Karen Todner, said: "The Secretary of State has responded and has refused to reconsider her decision and has ordered Mr McIntrye's extradition to the United States of America."
She told the BBC she would seek a judicial review of the decision within a week.
If an application is made, Mr McIntyre would not be extradited for at least three months.