Stuart Hall sex crimes: Police probe more abuse claims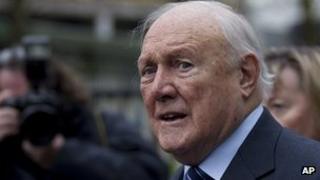 Police are investigating further allegations against ex-BBC broadcaster Stuart Hall, who was jailed last month for sexually abusing girls.
Hall, 83, admitted 14 offences committed against girls aged between nine and 17 from 1967 to 1985.
His 15-month sentence is due to be reviewed by the Court of Appeal after complaints he "got off lightly".
Lancashire Police said officers were trying to determine what action to take over the latest allegations.
The force said it was working closely with the Crown Prosecution Service to determine the "most appropriate course of action".
BBC inquiry
Hall has been a familiar face and voice in British broadcasting for half a century, and was appointed OBE in the 2012 New Year Honours.
Preston Crown Court heard the former It's a Knockout host was an "opportunistic predator" who used his fame to befriend girls.
The court heard that in the 1980s, Hall molested a nine-year-old girl by putting his hand up her clothing.
He also kissed a 13-year-old girl on the lips after saying to her: "People need to show thanks in other ways."
The BBC is investigating claims he was able to abuse girls on its premises.