Lee Rigby: Thousands fall silent for funeral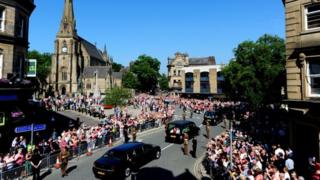 At the funeral for killed soldier Lee Rigby, thousands of people fell silent to remember a fallen comrade and national "hero".
Veterans, fusiliers and people from across the country stood in the heat of the sun for three hours to watch Fusilier Rigby's coffin pass by.
United in their respect, they gathered outside Bury Parish Church for the 25-year-old from Middleton whose brutal death has touched the nation.
Many clapped as his regimental colleagues, and then Lee Rigby's family, filed into the church for the one-hour service.
Lee's two-year-old son Jack clung to his teddy and wore a T-shirt saying "My Daddy, My Hero".
Prime Minister David Cameron and London mayor Boris Johnson were among those in the church supporting the family.
The regiment's saying 'Once a fusilier, always a fusilier' was demonstrated by the hundreds of veterans and colleagues lining the route from the church to Middleton Cemetery where Lee Rigby was buried.
Some stood in ceremonial dress, others with the red and white hackles of the regiment and the old Lancashire regimental veterans, yellow hackles in their hats.
The service began with a silence so respectfully observed you could hear a pin drop in the town.
'Gentle soul'
As the eulogies began, the service was broadcast to the crowds outside via loudspeaker and met with spontaneous applause.
Friends and colleagues spoke of a talented drummer who loved life in the Army, "a gentle soul" who loved nothing more than spending time with his family, particularly son Jack.
Close friend and fellow fusilier Sean Sheer said Lee took to fatherhood instantly.
"Everywhere Lee went Jack would be with him. Lee loved nothing more than his family. He would do anything for them.
"Lee's time on this Earth was tragically cut short but the love he had for his family will never fade."
The coffin, covered in a Union flag and bearskin hat, was brought carefully out of the church and, as it was driven off, the crowd broke into applause and sang God Save The Queen.
Flowers were thrown across its path and fusiliers saluted.
About 100 members of the Royal British Legion Riders' Branch came from all over the country and as far away as Spain to pay their respects.
One of them, Rod Walker, from Yorkshire, said: "He was taken so early, so viciously it's affected the whole of the country.
"It's only right that as people and members of the Royal British Legion that we come and be here for the family."
'The country is with them'
Mick Bunner, a member of public from Fusilier Rigby's home town of Middleton had a 'three lions' flag specially made with the words 'RIP Lee Rigby' on.
"He's a soldier fighting for our country," he said. "I wanted to show the family, the country is with them.
"We are thinking of them and they are not alone."
Eunice Goddard from Bury was one of many throwing flowers and had also brought a Manchester United banner as it was Lee's favourite team.
She said: "It should never have happened but the number of people who have turned out today, it's beautiful - I wouldn't' have missed it for anything.
Former fusilier Keiron Gartland of the Bury Association said: "I wanted to show my respects for a lost brother.
"It was a sad way to lose him when he'd been to Afghanistan a couple of times and came home."
The funeral service for the fusilier from Middleton killed outside his army barracks in Woolwich tool place in Bury followed by a private committal at Middleton Cemetery.
After the service the leader of Rochdale Borough Council Colin Lambert paid tribute to the courage of Fusilier Rigby's family and said the tragedy had brought the community together.
He said: "We can be proud of the people of Middleton today.
They reacted as a family and Lee has been treated as one of our own. It has been a source of strength to the family and people on the estate where he grew up.
"It's been an incredibly emotional day."