Anglo-Saxon coin found in Mildenhall area declared treasure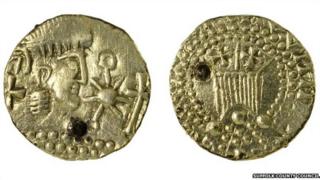 The discovery of a gold coin in a Suffolk field suggests the "trappings of an organised society" dating back nearly 1,400 years, an expert has said.
The Anglo-Saxon shilling, dating from 660 to 680, was found in the Mildenhall area in February.
The pierced coin, which may have been used as a pendant, was declared treasure at a Bury St Edmunds inquest.
Faye Minter, who records finds, said it appeared to be copying Roman and Byzantine coins.
'Status symbol'
Suffolk coroner Dr Peter Dean declared it as treasure as it contained silver and gold. The owner must now offer the item for sale to a museum at a price set by experts.
Ms Minter, senior finds recording officer with the Suffolk County Council Archaeological Service, said: "The coins appear to be copying Roman and Byzantine prototypes.
"This leads us to assume that the individuals who owned them were trying to adopt the trappings of an organised society.
"And therefore that they had aspirations to be part of an imperial line or to claim affiliation with previous leaders of the Roman Empire - presumably to legitimise their rule or authority within their own Anglo-Saxon societies.
"High status rich Anglo Saxons did tend to convert certain coinage into jewellery. This example has been modified, possibly to be a necklace and would have been worn and displayed as a status symbol by the owner."