Officer guilty over PC Ian Terry death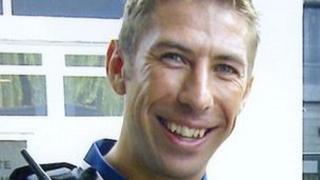 A Greater Manchester Police officer has been found guilty of breaching health and safety laws when an unarmed officer was shot dead in a training exercise.
PC Ian Terry, 32, from Burnley, Lancashire, was killed in June 2008 during police firearms training at a disused warehouse in Newton Heath.
The officer, one of two trainers, was fined £2,000 and ordered to pay costs of £500 at Manchester Crown Court.
A second officer was cleared. Both had denied the charges.
They were granted anonymity by the judge.
The officers, a sergeant and a constable, had pleaded not guilty to one count of a breach of Section 7 of the Health and Safety at Work Act.
'Deeply flawed'
The section requires employees to take reasonable care for the health and safety of themselves and others.
Sir Peter Fahy, who became chief constable of Greater Manchester Police shortly after PC Terry was killed, had previously pleaded guilty on behalf of the force to breaching health and safety law.
The force was fined £166,666 and ordered to pay costs of £90,000.
Sir Peter apologised and said PC Terry was "a highly professional and dedicated officer".
"I want to express our admiration for the dignity and love shown by his family over the many years it has taken for the case to get to this point," he said.
Mike Calcutt, from the Health and Safety Executive, said: "Greater Manchester Police accepted its failings and we welcomed their guilty plea earlier this year."
The jury heard the training exercise was "deeply flawed".
'Unacceptable wait'
PC Terry was carrying an unloaded handgun while playing the role of a criminal fleeing in a car during the exercise.
The father-of-two, who was not wearing body armour, was hit in the chest from a distance of about 12in (30.5cm) by a blank round of specialist ammunition not designed to kill.
Greater Manchester Police and Crime Commissioner Tony Lloyd said PC Terry's death was "an avoidable tragedy" but the force had since "radically changed" their procedures for firearms training.
He said: "I have been given the assurance that it would now be impossible for something similar to happen again.
"It is unacceptable that Ian's family have had to wait five years to get to this point.
"When the police get things wrong, it should not take such an extraordinary length of time to get to the bottom of what happened."