Stuart Hall sex attack sentence to be reviewed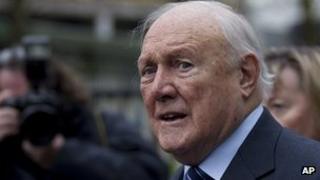 The sentence given to BBC broadcaster Stuart Hall for convictions for sexual abuse will be reviewed following complaints he "got off lightly".
Hall, 83, received a 15-month jail sentence in June after admitting 14 offences against girls aged nine to 17 between 1967 and 1985.
The Attorney General Dominic Grieve has referred the sentence to the Court of Appeal for review.
Victims' charities claimed the sentence was unduly lenient.
Court of Appeal judges will decide whether the sentence should be increased.
'Victims' distress compounded'
Mr Grieve said about 150 complaints were received about the length of Hall's prison term.
The National Association for People Abused in Childhood said the tariff showed his crimes were not taken "seriously enough".
The National Society for the Prevention of Cruelty to Children (NSPCC) chief executive Peter Wanless said the sentence was "not a great day for justice".
Labour MP Emily Thornberry, the shadow attorney general, said the sentence should be extended because of the seriousness of the offences, the age of victims and the fact he "compounded the victims' distress" by publicly denying the allegations at first.
Hall was initially arrested in December and made a statement labelling the claims "pernicious, callous, cruel and above all spurious".
Hall has been a familiar face and voice in British broadcasting for half a century, and was appointed OBE in the 2012 New Year Honours.
Preston Crown Court heard the former It's a Knockout host was an "opportunistic predator" who used his fame to befriend girls.
The court heard that in the 1980s, Hall molested a nine-year-old girl by putting his hand up her clothing.
He also kissed a 13-year-old girl on the lips after saying to her: "People need to show thanks in other ways."
The BBC is investigating claims he was able to abuse girls on its premises.
Judge Anthony Russell QC said he had to sentence Hall based on the maximum sentence available at the time the crimes were committed, which was two to five years.
However, the maximum sentence for similar offences has more recently been increased to 10 years.
Guidelines published by the Sentencing Council state a number of factors, such as the seriousness of the offence, the harm caused to victims and the risk of reoffending, must be taken into account when a tariff is set.