Lee Rigby: Family say soldier 'has become a hero'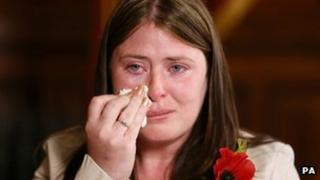 Fusilier Lee Rigby's family have said the soldier "has become a hero" since he was killed in London in May.
The 25-year-old from Middleton, Greater Manchester, was killed as he returned to Woolwich barracks from the Tower of London on 22 May.
His wife Rebecca said: "We have had an awful lot of support from across the world. It has been overwhelming."
Mother Lyn said they had "thousands of cards with kind words" that had "given us the strength to get through".
She said her "fun-loving" son had "fulfilled his dreams" by serving in the Army.
'Flowers everywhere'
Stepfather Ian Rigby, 54, said: "Everywhere we have been, people have been supporting us.
"They have been absolutely incredible, coming up - not in your face but shaking hands and saying God bless, that sort of thing.
"And they have really meant what they said to us.
"And it's the same in the community, the support in Middleton.
"It's a small place but the support we have had off everybody has been incredible.
"At one stage for about three weeks we just had a garden full of flowers. We couldn't move in the garden. There were flowers everywhere."
Mr Rigby added: "It's just the continued support. Lee has become a hero.
"And the support and the unity through the country.
"We have been having phone calls or letters off mosques, off Jewish sections, every religion you can think of and not just in this country.
'Kid in a candy shop'
"We have had letters and cards from all over the world in support and just giving their best wishes."
Rebecca Rigby said she was touched by a gesture of support for the couple's two-year-old son Jack.
She said a stranger "sent me a lovely letter and a cheque for £10 asking me to buy something to put a smile on Jack's face.
"He wanted a scooter so we got him a scooter which he absolutely loves."
She said her husband "was so bubbly inside and energetic".
"He loved socialising with everybody, no matter where they were from or what they believed in.
"He didn't hold anything against anybody.
"He lived his life like a kid in a candy shop."
Michael Adebolajo, 28, and Michael Adebowale, 22, have been charged with the murder of Fusilier Rigby and are due to stand trial at the Old Bailey on 18 November.