River Kennet pesticide spill pollution warning lifted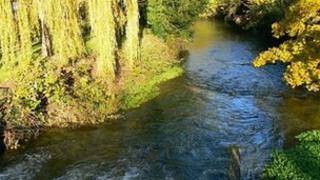 A pesticide spill in the River Kennet between Hungerford and Marlborough is no longer a risk to health, the Environment Agency has said.
On 1 July, a water check showed freshwater shrimp, mayfly and caddis fly along nine miles (15km) of the river appeared to have been wiped out.
A warning for people and pets to avoid contact with the water has since been lifted.
The Environment Agency said it still had to identify the pollution source.
What is believed to be an agricultural pesticide leaked into the river near sewage treatment works at Marlborough affecting eight miles (13km) of water.
Environment Agency spokesman John Sutton said the most recent tests on the water were "encouraging" with levels of pesticides falling, but the public should still avoid eating fish caught in the affected stretch pending further analysis of fish samples.
"Over time the pesticide will dissipate, but the impact will be with us for possibly some years because it has killed an incredible number of aquatic insects over a considerable section of the river," he added.
The chalk stream is a Site of Scientific Interest.