Couple ordered to pay back £1.5m over Leicestershire machine fraud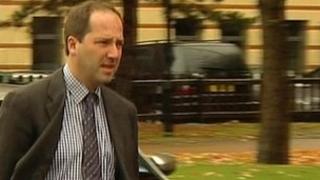 A couple from North Yorkshire who helped a Leicestershire fraudster borrow £110m have been ordered to hand over assets worth about £1.5m.
Max Fraser claimed he spent the money on machinery for Leicester-based Nylacast Ltd but instead spent it on yachts and flying lessons.
David and Elizabeth Liversidge were paid about £5m by Fraser and jailed last year for their roles in the scam.
They face more time in prison if the fees are not paid within six months.
The Liversidges helped Fraser, who was jailed for eight years in 2012, persuade more than 30 banks and financial institutions to finance 700 machines.
Only 111 actually existed.
'Asset seizures'
The couple, who ran Stoke-on-Trent industrial oven business HTL Limited, were paid more than £5m for their help by Max Fraser.
He and his family enjoyed a luxury lifestyle, living in a £1m home in Galby, in Leicestershire, and buying a yacht and flying lessons.
David Liversidge, 65, who was convicted of conspiracy to commit false accounting and sentenced to five years, was ordered to hand over assets to the value of £754,540.
His wife Elizabeth, 61, who was found guilty of conspiracy to commit false accounting and sentenced to three years, has to hand over assets worth £738,204.
Leicestershire Police obtained further orders against the Liversidges at a hearing at Warwick Crown Court on Thursday.
Paul Wenlock, who heads the force's economic crime unit, said: "This hearing is the final step in an investigation which has resulted in substantial sentences, and now substantial asset seizures."
Fraser was the former managing director of Nylacast Ltd but it was later sold and still exists. It had no connection with the fraud.