Gatwick Airport appoints MI6 HQ architect Sir Terry Farrell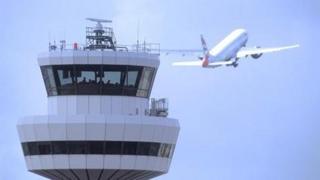 Gatwick Airport has appointed a world-leading architect to help in its plans for runway expansion.
Sir Terry Farrell will help in its proposals for a "constellation of three London airports" with two runways each.
Gatwick said competition between it, Heathrow and Stansted was "the best solution for London".
Sir Terry's previous projects include the MI6 building and Home Office headquarters in London and Incheon Airport in South Korea.
Stewart Wingate, chief executive at the West Sussex airport, said: "Having designed major transport infrastructure around the world, including the hub airport in South Korea, he will bring to the airport a track record of delivering major transport projects whilst ensuring London and the UK gets the right solution."
In September, the government announced an Airports Commission to look at aviation in the UK, including how to deal with the South East's congested airports.
Sir Terry's firm, Farrells, will look at the impact on London of having competing airports of equal size compared to a single "mega-hub" airport.
He said: "The world city of London, with the largest aviation market in the world, is the hub and its airport infrastructure needs to evolve and grow around the city.
"The concept of building a single mega-hub airport is at significant odds with what London needs."
In June Heathrow bosses claimed a third runway would be "cheaper, quicker and better for the economy" than building a new airport.
London Mayor Boris Johnson backs a Thames Estuary airport, calling the third runway idea a "giant step back".