CQC boss David Prior regrets Cumbria hospital report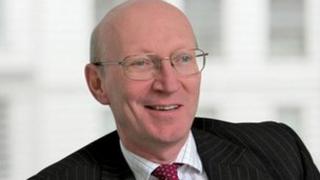 The former MP for North Norfolk likes a challenge - and he's certainly got one on his hands at the moment.
David Prior became chairman of the health watchdog the Care Quality Commission in February. His brief: to demonstrate strong leadership in an organisation that has not had the best of press. In the words of the health secretary, he appointed him "to relentlessly drive up quality".
And his verdict after four months in the job?
"It is an organisation not fit for purpose."
Since Mr Prior's appointment the CQC has hardly been out of the headlines.
There has been controversy over some of its inspections, not least the decision to investigate death rates at several of this region's hospitals.
The most high-profile controversy surrounds the apparent cover-up of a critical CQC report into the deaths of babies at a hospital in Cumbria. The decision to redact the names of those involved made matters worse and had to be revoked after a public outcry.
So Mr Prior was called before the Health Select Committee to explain what was going on.
'Damning indictment'
On the decision to redact the names in the Cumbria report, he took full responsibility.
"I acknowledge that it was a mistake and I bitterly regret it," he said. But after that he was in agreement with MPs that there is a lot wrong with the organisation.
The Cumbria report was "a damning indictment" which "outlines incompetence, complacency, dysfunction. It shows a culture of suppression and oppression. It described an organisation that was not fit for purpose".
The CQC, he said, was more interested in protecting its reputation than in publishing the truth.
One committee member, Andrew George, told Mr Prior there had to be sufficient transparency within the organisation. "If you need to come to conclusions which are critical there must be no pulling back," Mr George said.
"There speaks the voice of reason," said Mr Prior, as he went on to complain that he had inherited a secretive and defensive culture.
Thorough inspections
He promised to be "a radically different organisation" than in the past with more openness and more thorough inspections.
All the senior management at the trust had been replaced, he said and from September, the CQC would publish a list of all the hospitals causing it concern.
The former MP, who also used be chairman of the Norfolk and Norwich Hospital, faces quite a task. Not only does he have to restore faith in the CQC, he needs to find a way to make the public understand what it does.
The committee was told that Age UK recently organised a focus group of elderly people in the eastern region to ask them what they thought of the CQC. None had even heard of the organisation.
As we said, Mr Prior faces quite a challenge but he believes the culture was starting to change.