Fishermen project in Devon and Cornwall 'lands 50 tonnes of litter'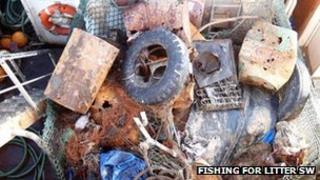 Fishermen across Cornwall and Devon have landed about 50 tonnes of litter in their fishing gear in more than four years, a maritime project says.
More than 130 fishing vessels have been involved in the Fishing For Litter South West project.
Boats are provided with large bags for litter, which is then brought ashore to be disposed of.
Common items landed included polythene, plastics, rubber, rope, bottles, nets, metals and textiles, mangers said.
Discarded debris
The project, which started in March 2009, began in Newlyn, Cornwall.
Since then, vessels based in Hayle, Looe, Mevagissey, Newquay, Padstow and St Ives in Cornwall; and Brixham and Plymouth in Devon, have joined the scheme,
After crews leave off bags of litter when they return to the quayside, harbour authorities take the rubbish to a dedicated skip.
Millions of marine mammals, birds, turtles and fish had perished as a result of entanglement or ingestion of deliberately or accidentally discarded debris, project bosses said.
The average yearly cost of marine litter to a fishing boat was about £10,000 through contamination of catches, broken equipment and fouled propellers, they added.
By helping reduce marine litter, participating fishermen made "a vital contribution to the protection of the marine environment as a whole", managers said.
The Duchy of Cornwall said the amount collected was a "milestone".