Kent and Sussex patient transport 'to free paramedics'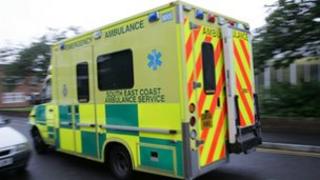 Ambulances staffed by support workers but without paramedics are being used in Kent and Sussex from Monday to help move patients to hospital.
The vehicles, which are known as intermediate tier vehicles (ITVs), will not be used in Surrey due to a "different demand" there, South East Coast Ambulance Service (Secamb) said.
Twenty four ITVs will be in operation across Kent and Sussex.
The NHS trust said the move would free up paramedics to deal with emergencies.
'Backed up by paramedics'
Head of emergency operations centres Sue Skelton said: "The introduction of this new level of patient service will help to ensure that we are able to respond more effectively and efficiently to all our patients.
"By undertaking transport to hospital for suitable patients where a clinician feels that it is appropriate, the ITVs should free up further emergency response vehicles to respond promptly to patients who may potentially be in a life-threatening condition."
The ITVs will be manned by two emergency care support workers and will be used to transport suitable patients to hospital after assessment by a clinician.
They will be able to carry out requests from GPs, nurses and paramedics and will be operational from 10:00 to midnight every day, the ambulance service said.
But the vehicles will also be able to be called to serious emergencies, known as Red 1 and Red 2 calls, if they are the nearest available crew.
In that situation, the emergency care support workers would be backed up by ambulance crews.
Secamb said the vehicles would not be used in Surrey because the different demand profile there meant they would not operate as efficiently.
A spokesman said there were not typically the number of incidents in Surrey that would benefit from this kind of response, but this could change in the future.