Danny Nightingale trial: Soldiers 'kept guns as trophies'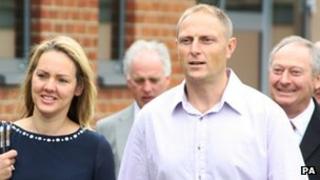 A soldier has told the trial of Sgt Danny Nightingale it was not unusual for troops to bring weapons home from operations as "trophies".
Sgt Nightingale, 38, of Crewe, Cheshire denies illegally possessing a gun and more than 300 rounds of ammunition.
His ex housemate, known as Soldier N, told the court: "You go on operations, you want to bring back a trophy, as our grandfathers did in the war."
He also said he did not own the gun Sgt Nightingale is accused of keeping.
Sgt Nightingale, of Crewe, Cheshire, has pleaded not guilty to a charge of possession of a prohibited firearm, namely a Glock 9mm pistol, between 26 November 2007 and 16 September 2011.
Soldier N, who cannot be named, is serving two years in military detention after admitting possessing prohibited firearms.
'Admitted to arms'
He told the court that he knew bringing weapons back from operations was illegal but was "par for the course".
"To bring back a trophy of some sort is kind of semi-okay," he said.
Police raided the house he rented with Sgt Nightingale in September 2011.
The court martial board heard Soldier N was on deployment in Afghanistan when he was told police were going to raid the house he shared with Sgt Nightingale.
The witness said he told a superior there was a Glock 9mm stored there along with some ammunition.
Afterwards he met Sgt Nightingale who had returned to the base to speak to the same officer.
"I didn't understand why he would be involved," Soldier N said.
"I told him what happened and what arms had been found and what I had admitted to.
"I told him I had a pistol and some ammunition."
Soldier N told the court he then had a second conversation with Sgt Nightingale, who told him he also had a Glock pistol, but said he was "not shocked" by the news.
He said Sgt Nightingale did not go into the details of how the Glock came into his possession.
"It was more about the consequences of having it, with a possibility of a five-year (prison) term," he said.
Asked by defence barrister William Clegg QC if he was sure he did not bring both pistols back, Soldier N replied, "I am positive".
Memory loss
Soldier N also told the court the house they shared was half-way between the base and the firing ranges, and he would take ammo home rather than return it to the stores.
"I know it's lazy, however at the end of the day it was easier to drive home ready for the next day rather than going all the way through town etc etc, then vice versa in the morning," he said.
On Tuesday, the court martial was told Sgt Nightingale had said he first got the gun in Iraq in 2007 and brought it back to the UK intending to present it to his unit as a trophy.
The court was told he blamed memory loss for failing to carry out that task after collapsing while participating in a jungle marathon in Brazil, in October 2009.
Sgt Nightingale also denies possession of ammunition on or about 16 September 2011 - namely 122 9mm live rounds, 40 7.62mm live rounds, 50 9mm frangible rounds, 50 .338 armour piercing live rounds, two .308 live rounds and 74 5.56mm live rounds.
The trial was adjourned until tomorrow when Sgt Nightingale is expected to give evidence.
The case is due to last until next week.