SAS sniper Danny Nightingale's gun possession 'a gross breach'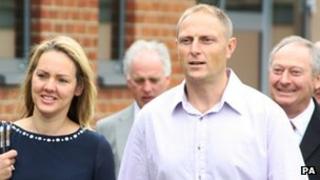 It was a "gross breach" of army regulations for an SAS sniper to have a gun and ammunition in his quarters, a court martial has heard.
Sgt Danny Nightingale, 38, denies illegally possessing a pistol and more than 300 rounds of ammunition.
The court martial in Bulford, Wiltshire, previously heard the army had strict policies on the retention of weapons and ammunition.
A colleague of Sgt Nightingale said the rules applied to all service personnel.
'No special exemptions'
Sgt Nightingale, of Crewe, Cheshire, whose regiment was listed as The Duke of Lancaster's Regiment (King's, Lancashire and Border), has pleaded not guilty to a charge of possession of a prohibited firearm - a Glock 9mm pistol - between November 26 2007 and September 16 2011.
He also denies possessing a range of different types of ammunition on or about 16 September 2011.
The haul was recovered in September 2011 when civilian police searched the father-of-two's house, which he shared with another member of the SAS, known as Soldier Y, the hearing was told.
Prosecutor Timothy Cray asked Soldier Y: "Given the nature of your unit was there any special exemptions in terms of members of the unit having firearms for their own use that had not been issued by the unit?"
Soldier Y said: "None whatsoever."
This also applied to possession of ammunition, he confirmed.
Mr Cray asked the witness how serious such a breach of conduct would be.
Soldier Y told the five-strong military board: "It would be regarded as a gross breach bearing in mind the nature and quantity of the ammunition that was allegedly found at the defendant's house."
Memory loss
On Tuesday, the court martial was told Sgt Nightingale had said he first got the gun in Iraq in 2007.
He brought it back to the UK intending to present it to his unit as a trophy, but never never got round to completing that task.
The court was told he blamed memory loss after collapsing while participating in a jungle marathon in Brazil, in October 2009.
Mr Cray asked Soldier Y if Sgt Nightingale had some "serious memory problems", would they have been "picked up"?
Soldier Y replied: "Very likely. It would be flagged up, it would stick out, I promise you."
The witness told the court martial that if there were any medical concerns soldiers would not be deployed.
The court heard that two years earlier, Sgt Nightingale had been deployed to Iraq and had been part of a repatriation party which escorted the bodies of two SAS soldiers killed on operations back to the UK.
William Clegg QC, for Sgt Nightingale, said his client had returned to the UK at short notice following the deaths and had left some of his kit in Iraq.
He asked Soldier Y if it was possible for him to have just left some belongings behind like that.
"It is possible," Soldier Y replied.
The case, which is due to last until next week, was adjourned until Thursday.