Devon and Somerset Fire Service savings plans increased to £8m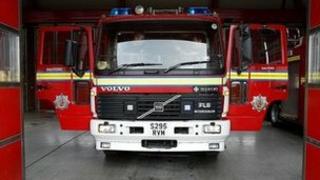 Devon and Somerset's fire service needs to save a further £2.5m on top of £5.5m already planned over the next two years, managers say.
Firefighting equipment and stations also faced going from being crewed full-time to just being on-call under the plans, they added.
Crews in Ilfracombe, Plymouth and Torquay in Devon, and Taunton in Somerset, may be affected.
A final decision on the £8m savings is due from the fire authority on 10 July.
'Living within means'
In Plymouth, three fire engines and the city's aerial ladder platform may be moved from full-time crewing to just on-call.
Ilfracombe's fire station, in north Devon, also faces being moved to just on-call.
A second fire engine in Torquay in south Devon could also go from full-time, along with a second fire engine in Taunton, Somerset.
Chief fire officer Lee Howell the savings increase was needed after the government's spending review last week.
He said the service did not "have the option of staying as we are".
He said: "The proposals being considered do not require closure of fire stations, removal of fire engines or at this stage compulsory redundancies.
"We do, however, need to live within our means, and, whilst I would rather not be taking out this amount of money from the service, in reality we don't have any control over the funding allocated to us by government.
He said he and the fire authority would continue to lobby government "to ensure a fairer settlement for the future but we have to face the reality of today".
Unions have described any plans to cut cover as "dangerous".