SAS sniper Danny Nightingale: Gun found in quarters, court hears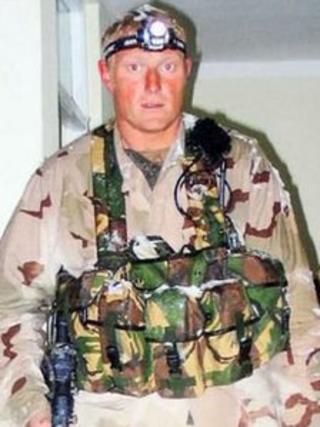 A handgun and more than 300 rounds of ammunition were recovered when police raided the quarters of an SAS sniper, a court martial has heard.
Sgt Danny Nightingale, 38, of Crewe, Cheshire, pleaded not guilty to a charge of possession of a prohibited firearm between 26 November 2007 and 16 September 2011.
He is accused of possessing a Glock 9mm pistol and 338 rounds of ammunition.
The case at Bulford, Wiltshire, is due to last until next week.
The court martial was told the handgun and ammunition were recovered when civilian police searched the father-of-two's accommodation, which he shared with another soldier, known only as Soldier N.
Timothy Cray, prosecuting, told the five-strong court martial board: "The defendant's possession of the firearm and ammunition was in breach of standing orders that are familiar to every soldier and fundamentally was contrary to the law of this country.
"We say there is no excuse for what the defendant did.
"No matter how he tries to deny it, the gun and ammunition were there in his bedroom because he put them there and he kept them there.
"These are the plain facts which he will not face up to.
"The prosecution say that he possessed these lethal items unlawfully and that he chose to leave them in an insecure civilian house."
Mr Cray added no-one was saying Sgt Nightingale was a "bad soldier" but "even good soldiers can make mistakes".
Sgt Nightingale had given "various explanations" for how he came into possession of the pistol and ammunition, Mr Cray said.
'Memory difficulties'
The court martial was told Sgt Nightingale had said he first got the gun in Iraq in 2007 and he brought it back to the UK intending to present it to his unit as a trophy, but never never got round to completing that task.
Mr Cray said: "He also said he had accumulated the ammunition because he was a range instructor and, over the years, it had built up through poor administration and repeated failures to put it in an amnesty bin."
The court heard the prosecutor's claim of unreliability was said to be a result of memory difficulties that affected the defendant and he had collapsed while participating in a jungle marathon in Brazil in October 2009.
Sgt Nightingale, whose regiment in court was listed as The Duke of Lancaster's Regiment (King's, Lancashire and Border), returned to full duty with his special forces unit in January 2010 and passed all assessments to be deployed to Afghanistan in May 2011.
The court heard Sgt Nightingale's accommodation, which cannot be identified for legal reasons, was searched by police after an allegation was made against Soldier N.
Soldier N had pleaded guilty to Firearms Act offences after a weapon, ammunition and hand grenade were recovered from the property. He was given a sentence of military detention.
The prosecutor said several unnamed witnesses from the SAS would be giving evidence during the court martial.
'Personal gift'
Mr Cray said Sgt Nightingale had admitted possession of the firearm and ammunition during interviews in September 2011.
During an interview with the Royal Military Police in January 2012 he said he was given the pistol as a personal gift by a group of Iraqi nationals he had been working with in Baghdad.
Sgt Nightingale had claimed he had intended to decommission the pistol but never got round to it, the prosecutor added.
Mr Cray said. "If the defendant is claiming that, in 2011, he missed seeing the weapon and the ammunition through oversight or through being away from his base, the Crown suggests that this claim does not stand up to analysis."
Later in the hearing, the court was cleared to allow an SAS soldier who previously served with Sgt Nightingale to give evidence via videolink.
The witness, known as Soldier X, said he was present when the weapon and ammunition was found by police.
He told the court that after he and officers had left the property he contacted military superiors, who removed items and secured the property.
The court martial was adjourned until Wednesday.