Exotic animals seized at Heathrow and Gatwick airports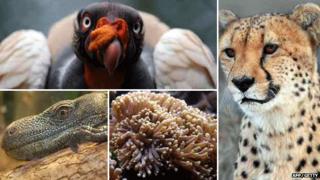 Vultures, monitor lizards and a cheetah are among dozens of live animals seized at Heathrow and Gatwick airports.
Three brown lemurs, five serval cats, 180 royal pythons and hard coral have also been impounded by border officials over the past two years.
Two live tayras - South American members of the weasel family - were among those intercepted.
Dead creatures were also seized - a cobra, gecko, lizard, hummingbird, peregrine falcon and 90 dead seahorses.
The figures were obtained through a Freedom of Information request to the UK Border Agency.
Brown lemurs are listed as "near threatened" on the International Union for Conservation of Nature (IUCN) Red List of Threatened Species, while cheetahs and spur-thighed tortoises are listed as vulnerable.
Some types of terrapin, salamander and coral are categorised as critically endangered on the list.
Although the purpose of the dead seahorses is unclear, the creatures have been used in Asia for centuries as a treatment for ailments including kidney problems and impotence.
In March, a man travelling from Burkina Faso via Istanbul was stopped at Gatwick with 207lb (94kg) of dried caterpillars in four hessian bags in his luggage.
He claimed they were to be used as food and were for personal consumption.
The Border Force said the man was warned about the restrictions and the insects were destroyed.
In January last year, a cheetah was seized by staff at Heathrow who were suspicious about its missing identity microchip.
'Detained or seized'
The big cat, called Isaac, was on his way from a South African safari park to Russia when he was seized.
He stayed at the Heathrow Animal Rescue Centre for three weeks before being moved on to a UK wildlife park.
The international wildlife trade is estimated to be worth billions of dollars annually, and to include hundreds of millions of plants and animals.
The Convention on International Trade in Endangered Species of Wild Fauna and Flora (Cites), an international agreement between governments, aims to ensure that international trade in wild animals and plants does not threaten their survival.
A spokesman from the City of London Corporation, which runs the Heathrow Animal Rescue Centre, said commercial shipments of reptiles, fish and zoo animals were checked by the Animal Health and Veterinary Laboratories Agency and issued with a Common Veterinary Entry Document before being cleared.
Any species listed by Cites that does not comply with its import permit may be detained or seized, and could be temporarily housed at the centre, he said.
A spokesman from the Border Force said: "The illicit trade in endangered animals is a serious contributory factor to the threat of extinction faced by many endangered species.
"Border Force takes its role in enforcing international agreements and prohibitions designed to protect the natural environment very seriously.
"Anyone trading in protected creatures and plants should ensure they have the right paperwork before they import exotic animals into the UK."