PCC Tony Hogg defends accommodation allowance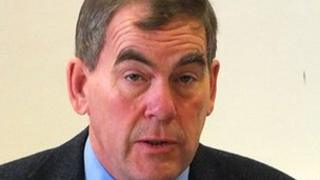 Devon and Cornwall's police and crime commissioner (PCC) has defended his £650 monthly rent allowance.
Tony Hogg, who lives in Helston, about 100 miles (160km) from police headquarters, uses the allowance for accommodation in Lympstone, about nine miles (14km) away.
Mr Hogg was responding to a critical article in the Mail on Sunday.
He said it would not be "appropriate" for him to stay in free police accommodation.
During the week Mr Hogg, a former Royal Navy officer, lives at the Royal Marine Commando Training Centre.
'Load of nonsense'
In a statement, he said: "My role is all about holding the chief constable and the police force to account on the public's behalf, and therefore it is not appropriate for my office, or my accommodation, to be sited there."
Mr Hogg, who is paid a salary of £85,000, confirmed the pre-tax accommodation allowance of £650 was agreed by the remuneration committee of the Office of the Police and Crime Commissioner (OPCC).
"After tax, this allowance amounts to approx £350 a month and just covers my basic £17 a night accommodation at the Lympstone Marine Camp," he said.
"I am not making a profit from this allowance and the public should understand that because of it I am working extra long hours on their behalf."
The Police Federation, which represents rank and file police officers, said it was "ironic" that Mr Hogg's office and expenditure appeared to be "ever increasing", while newly announced budget cuts could threaten police jobs.
Chairman Nigel Rabbitts said he would be raising the issue with Mr Hogg at their next meeting. He said the commissioner's assertion that it would not be appropriate to stay in free police accommodation was "a load of nonsense".
"I'm sure he has justification for the amount, but there is accommodation available at Middlemoor which the rest of the police service use when they have to stay overnight in the Exeter area," he said.
Mr Rabbitts said, while the federation appreciated Mr Hogg was "fighting their corner" over budget cuts, the accommodation allowance would "annoy" officers.