Commissioner Tony Hogg's commitment on officer numbers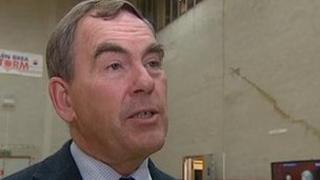 Devon and Cornwall's police and crime commissioner has said he is committed to maintaining the current number of police officers.
Tony Hogg said chancellor George Osborne's announcement of more police funding cuts was disappointing.
The force will have to save nearly 6% in 2014/15 and a further 5% in 2015/16.
"We'll try very hard to make these savings from the so-called back office, but the trouble is the back office is pretty empty now," he told BBC News.
Although Devon and Cornwall was "ahead" of its savings plans, Mr Hogg warned it would not be easy to cope with further cuts.
Over the past three years, the number of officers has fallen from 3,500 to 3,090.
Mr Hogg said although he would need to need to discuss the matter fully with Chief Constable Shaun Sawyer, he was committed to maintaining that number and the search for savings would continue.
Nigel Rabbitts, of the Police Federation, said while he fully supported the commissioner's commitment, it would be not be easy to achieve.
"A further cut of more than 5% on the budget in 2015 is going to be very difficult and my members are very concerned," he said.