A14 toll road could be bad for ports, businesses say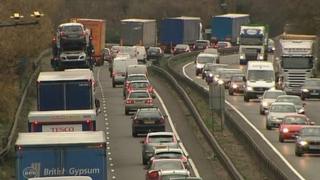 Introducing tolls on the A14 road as part of a £1.5bn upgrade could take trade from Suffolk ports, business leaders have warned.
The Treasury confirmed on Thursday it would release money to improve the road linking Felixstowe to the M1 and M6.
One Suffolk businessman described a toll as "bonkers" and others fear hauliers may use other ports instead.
South Cambridgeshire MP Andrew Lansley said he was "confident" hauliers would pay if the toll was kept low.
Councils and businesses in the East of England have agreed "in principle" to provide £100m in local contributions to the overall cost of improving the A14.
Trade 'disincentive'
However, members of Suffolk Chamber of Commerce expressed concerns about tolling a section of the A14 in Cambridgeshire ahead of Wednesday's Spending Review, and Thursday's announcement.
They said: "Traffic to and from Suffolk, including commercial vehicles from the ports and elsewhere in Suffolk, will be expected to pay a fee per journey through Cambridgeshire.
"In effect this is a tax upon business and will damage competitiveness."
Businessman Tim Meadows-Smith, who runs StartUp Suffolk, said unless other bottlenecks along the route were tackled, Suffolk ports could be "left in isolation because of an inadequate road".
"The toll is absolutely bonkers," he added.
"All it will do is force traffic through the towns and villages either side of the main roads."
Members of the New Anglia Local Enterprise Partnership for Norfolk and Suffolk, and Suffolk County Council's member for roads and transport have also said a toll could be a "disincentive" for trading through Suffolk.
However, Conservative MP Mr Lansley, said: "Time is money to hauliers, and if the toll is set low and alternative routes are difficult for them to navigate, then I think we can be pretty confident."