Firefighter Alan Soards ate McDonald's breakfast before fatal swim, inquest hears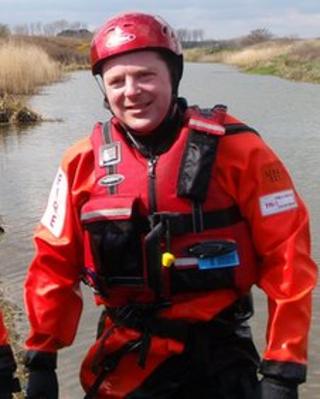 An experienced, fit and healthy firefighter died on a water rescue training exercise at a London Olympics venue, an inquest has heard.
Suffolk firefighter Alan Soards, 38, ate a McDonald's breakfast an hour before going into water at Lee Valley White Water Centre, Hertfordshire.
The inquest in Hatfield heard there were no defibrillators at the centre.
Coroner Edward Thomas said he would be raising the issue with the Department for Communities and Local Government.
Mr Soards, from Oulton Broad, Lowestoft, was a member of white watch at Lowestoft Fire Station and a volunteer lifeboatman.
He and three colleagues had completed a "passive" swim in which they allowed fast-flowing water to carry them down the smaller course at the Waltham Cross centre, the inquest heard.
They then went down the same route on a more exhausting "aggressive swim", which they had done before.
'It was haunting'
Colleague Peter Brown said Mr Soards, who was single, swam down the course but missed the first safe area, away from the fast-flowing water, where he was supposed to stop.
When he stopped at the second safe area, he looked out of breath, Mr Brown said.
He said he was not surprised because Mr Soards, who grew up in Gorleston, Norfolk, had been working hard on the course.
"He was a big, thick-set chap and was a powerful swimmer," he added.
At the end of the course, Mr Soards was face-down in the water and was pulled out.
"You could see something was wrong," said Mr Brown.
"His jaw was locked and he was struggling to breathe. He was a purple colour.
"He was staring. It was haunting."
He said Mr Soards had eaten a McDonald's breakfast shortly before the exercise.
"I joked 'You will be seeing that in the next half-an-hour'," he said.
'Stop messing about'
White watch commander Neil Henderson said Mr Soards was a "brilliant chap" who "excelled" at swimming.
When he saw him face-down in the water, he told him "Stop messing about, Alan", the inquest heard.
"After a few seconds I realised he was in trouble," he added.
Water rescue instructor Philip Geeson said attempts were made to resuscitate Mr Soards, who vomited some undigested food.
Ambulances arrived but he was pronounced dead at the scene 45 minutes later.
The inquest heard there were no defibrillators at the site or with the fire crews.
Mr Soards, a Coventry University graduate, had no history of medical problems, the inquest heard.
Pathologist Dr Waria Mohammed, who carried out a post-mortem examination, said Mr Soards had inhaled vomit.
Recording a narrative verdict, the coroner said Mr Soards died from cardiac respiratory failure and "aspiration of gastric contents" had contributed to his death.
Mr Thomas said he would write to the Department for Communities and Local Government, suggesting defibrillators be made available as a matter of course.