Eight-man £26m cigarette smuggling gang jailed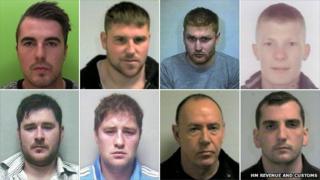 Smugglers behind a £26m illegal cigarette operation whose tobacco they described as "wet, mouldy and smells like manure", have been jailed.
Eight men from Nottinghamshire and Yorkshire "flooded" north England with millions of illegal cigarettes, HM Revenue and Customs (HMRC) said.
Derby Crown Court heard the gang used "precision planning" in their work.
The court cases have been ongoing since November but reporting restrictions have only just been lifted.
HMRC, which brought the case, said the plot was masterminded by Doncaster men Daniel Harty and Billy-Jo Wall, along with brothers, William and Samuel Tomlinson, Ben Kirk, Peter Lawrence and Jonathan Ellis all from Retford and John Sabin from Doncaster.
A ninth, David Donaghey, from Newcastle, was also jailed for receiving 1,308,000 cigarettes.
'Extensive customer base'
Sandra Smith, HMRC's assistant director of criminal investigation, said: "This gang operated in a very professional way, importing and delivering smuggled cigarettes and tobacco with precision planning.
"They kept hand-written records and accounts and had developed an extensive customer base."
Under the direction of Harty and Wall, the gang created a distribution network that transported millions of cigarettes throughout the north of England to warehouses, storage yards and farms.
The shipments were then broken down into smaller loads and delivered to towns and cities across the country, to sell on the black market.
The men were arrested in early 2011 as part of an investigation codenamed Operation Hornbeam.
In the gang's "safe house", investigators found a large haul of cash and the customer order book in an under-floor safe, hidden beneath a spring loaded tile on the kitchen floor.
Paperwork, receipts and phone records were also found, along with forensic evidence linking all the men to the operation, HMRC said.
Defendants and sentences
Daniel Thomas Harty, 29, of Toll Bar, Doncaster was jailed in November for four years and six months. He pleaded guilty to conspiracy to evade excise duty
Billy-Jo Wall, 28, from Herrick Gardens, Doncaster, also pleaded guilty in November and jailed for four years and four months. He was handed an extra 32 months concurrent for money laundering
William Tomlinson, 29, of Lifton Avenue, Retford, was jailed for three years eight months
Samuel Tomlinson, 26, of Grove Coach Road, Retford, jailed for 10 months
Ben Kirk, 27, Windsor Road, Retford, jailed for five months in June
Jonathan Ellis, 24, Century Road, Retford, jailed for 20 months in June
Peter Lawrence, 22, of Claters Close, Retford, jailed for six months in June
John Sabin, 57, of York Road, Doncaster, sentenced to two years and nine months. Currently on the run.
David Donaghey, 28, Wilton Avenue Newcastle, jailed for three years and four months