School's pro-England Ashes song changed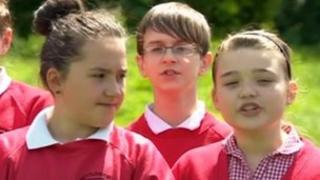 Schoolchildren who won a competition to sing a song at the first Ashes Test match of the summer have been told to change the "cheeky" lyrics.
Nettleham Junior School, near Lincoln, won a contest to perform in front of a 20,000-strong crowd at Trent Bridge.
But organisers have now asked for a "more welcoming" tune to be sung.
The original included the line: "We would even suggest that Shane Warne is recalled, but he is too worried about going bald."
Pro-England
The chorus has the line: "You can keep your koalas and your kangaroos / you can keep your coral reefs and even the sunshine too / but you'll never get the Ashes back."
Head teacher David Gibbons said: "The children had written their original version, which was a little bit cheeky.
"We looked at it again and in discussion with Trent Bridge we decided we didn't want there to be any misinterpretation of what the song was."
Mr Gibbons said it was too pro-England and the song has now been rewritten to celebrate the achievements of both teams.
The new song has the line: "No matter how far it seems - you shouldn't worry, just follow your dreams."
The competition, Song for the Ashes, was organised by Nottinghamshire County Cricket Club. No-one from club has been available for comment.
The opening Ashes Test match begins at Trent Bridge in Nottingham on 10 July.