Nurses on police patrols to deal with mental health cases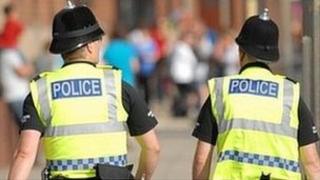 Nurses are to go on patrol with four police forces across England to improve responses to mental health emergencies.
The pilot scheme aims to ensure fewer people with mental health problems are detained in the wrong environment, the government says.
Street triage teams are to be tested in the Derbyshire, Devon & Cornwall, North Yorkshire and Sussex force areas.
The patrols are part of an initiative funded by the Department of Health and backed by the Home Office.
Home Secretary Theresa May recently said one of the biggest blocks to officers was time taken up dealing with people with mental health problems.
Cell use criticised
It has been estimated they spend between 15-25% of their time dealing with such situations.
Last week, watchdog bodies in England and Wales also said too many mentally ill people were being held in police cells rather than being monitored in hospitals or other similar settings.
A joint investigation by Her Majesty's Inspectorates of Constabulary and Prisons, the Care Quality Commission and the Healthcare Inspectorate Wales called for a rethink of how powers are used to detain people in a "place of safety".
Current guidance says police should take the mentally ill to a hospital or similar location in all but exceptional circumstances, but the investigation said detention in police cells was far from an exceptional occurrence.
Some of those who were detained were as young as 14, it added.
Policing and criminal justice minister Damian Green said: "All too often the police encounter vulnerable people with mental health issues who need immediate care or longer-term support which only the health service can provide.
"The rollout of these street triage pilots are a step forward in our ongoing work with the Department of Health and police to ensure people with mental health issues are dealt with by the right emergency service."
Street triage services have already been tried out in Cleveland and Leicestershire.
'Urgently needed'
Marjorie Wallace, chief executive of the mental health charity Sane, welcomed the new scheme.
"We hear all the time about police having to 'pick up the pieces' where psychiatric services have failed mentally ill people.
"In many cases they do this with care and common sense, but they are not trained in dealing with the complexities of mental ill-health and can feel uncertain and unsupported when they are the only ones to take steps to protect the patient and occasionally others.
"This street triage scheme is therefore urgently needed to ensure that vulnerable people are more promptly assessed, that police cells are used less frequently and they receive care and treatment rather than custody."