Badger cull August start date denied by police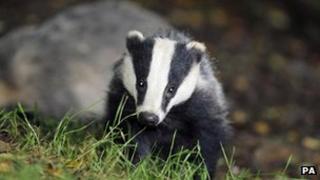 Police have denied that a start date has been revealed for the badger cull in the west of England.
At a meeting on Tuesday, Avon and Somerset Chief Constable Nick Gargan said it would start "in August".
But on Wednesday he said the mention was "indicative of a start during the summer rather than a specific date".
About 5,000 animals are due to be shot in Somerset and Gloucestershire as part of efforts to reduce the spread of bovine TB in cattle.
A licence to cull badgers any time between 1 June and 1 December was issued by Natural England last year.
Once the cull begins it will take place over a six-week period.
'Matter for Defra'
At the public forum on Tuesday evening, Mr Gargan said: "The badger cull coming up in August... is going to be on Exmoor.
"There's another site in Gloucestershire. It's just another policing challenge, I'm not particularly fazed by it but it will require some police resources."
But on Wednesday Mr Gargan said: "My comment at yesterday evening's public forum was broadly indicative of the timing for the cull in Somerset.
"At the moment, we don't know when it will start, other than some time during the summer months."
The start date "is a matter for Defra and the organisations running it, not the police", a force spokesman said.
The cull will involve the animals being shot in the open by marksmen using high-velocity rifles. The badgers will not be trapped in cages first.
Proponents believe the cull will help prevent the spread of bovine TB among cattle, but animal welfare and wildlife campaigners reject this.