Keanu Williams toddler murder: Mother jailed for life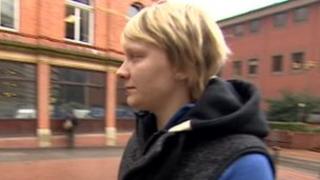 A mother described by police as a "monster" has been jailed for life for murdering her two-year-old son.
Rebecca Shuttleworth, 25, of Cottingham Road, Manchester, was convicted on Monday, after a five-month trial, of killing toddler Keanu Williams.
Keanu, known as Kiwi, died in January 2011 after being found with 37 injuries in Ward End, Birmingham.
Shuttleworth, formerly of Hay Mills, Birmingham, will serve a minimum of 18 years.
She was also convicted of four counts of child cruelty.
'Lingering death'
Shuttleworth's partner Luke Southerton received a nine-month sentence, suspended for two years, for one count of child cruelty for biting the arm of the toddler.
Southerton, of Hagley Road, Birmingham, was cleared on Monday of murdering Keanu.
The body of the toddler was found with 37 marks of injury.
Sentencing Shuttleworth at Birmingham Crown Court, Mr Justice Spencer said: "The jury have convicted you of the brutal murder of your two-year-old son.
"He was a defenceless child and it was your duty to protect him. Instead you beat him so severely he died a lingering death from his injuries a day or so later.
"You have also been convicted of cruelty by failing to summon the medical aid he so badly needed."
He also said Shuttleworth had decided not to seek medical help because she knew his injuries, including internal bleeding to his abdomen, could not be explained away.
The judge added: "You alone were responsible for the violence which led to Keanu's death.
"One can scarcely imagine the pain and distress Keanu must have suffered from this outburst of violence.
"He must have been terrified, it must have been clear to you as soon as the violence had taken place that Keanu was badly in need of medical attention.
"I accept that there was no intention to kill but this was a brutal and sustained attack."
'No remorse'
Although the judge accepted Shuttleworth had experienced tragedy in losing her mother and grandmother following a "troubling" upbringing, he said she had shown a cruel and vicious streak towards Keanu.
Det Ch Insp Caroline Marsh welcomed the sentence given to Shuttleworth and hoped it could offer the family "closure".
Ms Marsh said: "It is the worse child abuse I've seen during my time with West Midlands Police."
She described Shuttleworth as a "very disturbed individual" who had "shown no remorse".
Ms Marsh said Keanu had been "systematically abused" by his mother who had evaded detection.
She added: "All of the agencies had a small part of the picture.
"I don't think anyone was in the position to see the full picture.
"She moved around with Keanu and effectively slipped through the net."
'Very manipulative'
Jane Held, the chairwoman of Birmingham's Safeguarding Children Board, said a serious case review into Keanu's death would be published shortly.
"We know there were a number of missed opportunities, partly because Rebecca moved very regularly and was constantly meeting new professionals so there were problems with communication," she said.
"Rebecca was very manipulative, she obviously found ways to slip through the net.
"We know concerns were raised and responded to - what we don't know is how they didn't lead to significant, swift action."
The Department for Education said a new chief social worker - appointed in May and due to take post in September - could help "challenge the profession".
A spokesperson said: "We must ensure that lessons are learned when a child dies or is seriously harmed and there are signs of abuse or neglect.
"We have established the Serious Care Review panel to provide rigorous independent scrutiny to the system so the same mistakes are not repeated."