A14 upgrade: Treasury to announce decision on Thursday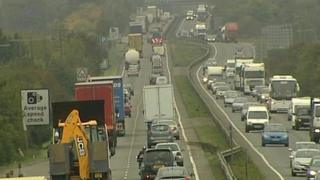 The decision on whether a £1.5bn upgrade to the A14 is given the green light will be announced on Thursday.
The government's plan for the road linking Suffolk with the M1 and M6 via Cambridgeshire and Northamptonshire includes tolling part of it.
Councils and businesses in the east have confirmed they will contribute £100m if the plans are confirmed.
Treasury Secretary Danny Alexander is expected to make an announcement after 10:30 BST on Thursday.
The scheme was first proposed in July.
The government said work could begin as early as 2018 but it would be "subject to a funding package and decisions at the next spending review".
'Do its bit'
Improvements include widening the road and new safety measures.
A local contribution of £100m was agreed after councils and businesses in the east met with representatives from the Treasury and Department for Transport.
In March, the Greater Cambridge/Greater Peterborough Local Enterprise Partnership (GCGPLEP) committed £50m over 25 years to the scheme and two weeks ago Huntingdonshire District Council said it would provide a further £5m.
Other members of the group "agreed in principle" to finding the additional funds.
The group, led by Cambridgeshire County Council, wrote to the government ahead of the spending review to clarify its position.
Council leader Martin Curtis, said: "We, as a group of authorities and local enterprise partnerships, have written to the government to say that we are willing to contribute £100m towards the A14 major improvement scheme.
"This local contribution depends upon government doing its bit and confirming the core government funding for the A14, and an early start date as part of the spending round process.
"Individual contributions are subject to partners going through their normal decision making processes."