Girl abduction teacher Jeremy Forrest to be sentenced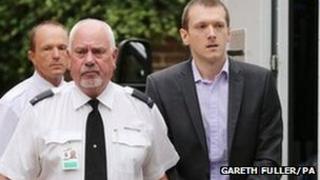 A teacher who had a relationship with a 15-year-old schoolgirl and went on the run with her in France is due to be sentenced at Lewes Crown Court.
Jurors took less than two hours to convict Jeremy Forrest, 30, of child abduction on Thursday.
The prosecution said the maths teacher from Petts Wood, south east London, was a paedophile who groomed a vulnerable girl at the Eastbourne school.
Forrest gave no evidence in his defence during the eight-day trial.
But his lawyer Ronald Jaffa said the girl had been "desperate and suicidal" and Forrest had gone to France with her to prevent her coming to harm.
The court heard the pupil had just turned 15 when Forrest started having sex with her after she developed a crush on him at Bishop Bell C of E School.
'Indecent images'
Forrest would pick the girl up in her school uniform and have sex with her in his car, in hotels and at his marital home, jurors were told.
The girl told a friend she had sex with Forrest up to eight times a night.
The court heard Forrest sent her "indecent images" of himself showing his naked torso with his hands down his underpants and she responded with pictures of her naked breasts.
Eventually, fearing they were about to be discovered, Forrest booked them both on to a cross-Channel ferry from Dover to Calais last September before they spent a week on the run in France.
They were later tracked down in Bordeaux.
'Not Romeo and Juliet'
Prosecuting, Richard Barton said Forrest's actions were an abuse of trust.
He asked what it was Forrest found attractive about young-looking vulnerable women.
And he said: "There is a word for it. It's called grooming - being caring, being kind, being close, gaining confidence, gaining the trust of that person and then you can do what you want to do with them."
Mr Barton also said it was not a case of Romeo and Juliet because they were not "equal" partners in what happened and Forrest had organised the situation.
But as the jury returned to court to deliver the verdict, Forrest turned to the girl and said: "I love you."
The girl sobbed in court and said to him: "I am sorry."