Dragon Harald Fairhair tested ahead of Viking expedition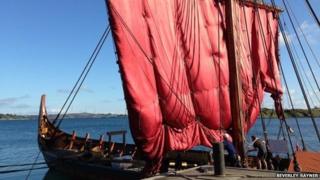 The largest replica Viking longship ever built has been test-rowed by a team of enthusiasts ahead of an expedition to the UK next year.
The longship, named Dragon Harald Fairhair, was hand-built in Norway over two years and is 114ft (35m) long.
It will be sailed to the UK and the Mediterranean in an international voyage in 2014.
The UK rowers, called the Viking Navy, hope to be recruited again when the expedition starts.
Prof Stephen Harding, from the University of Nottingham, led the 54-strong Viking Navy for the test row, which coincided with the Karmøy Viking Festival.
He said the experience was "truly exhilarating".
"It's half the size of a football pitch in length so it's huge," he said.
Building the longship was the dream of Norwegian businessman Sigurd Aase, whom Prof Harding met three years ago, while doing DNA testing in Norway.
'So magical'
The team of rowers came from the East Midlands and the Wirral, both areas with strong Viking heritage.
Among the team was Leicestershire author Giles Kristian, who has written a series of Viking novels.
"It's certainly not something you get to do every day and I think that's one of the things which made the thing so magical," he said.
"The only thing we didn't get to do was any pillaging."
He said the rowing was not as physically difficult as he expected, but the technique was tricky to get right.
"I think if you were a Viking looking at this ship rowed by us lot you would be absolutely appalled," he said.
The test provided data for the team that built the longship, to help optimise rowing efficiency.
The rowers initially kept bumping into each other - which suggests people in the Viking Age were shorter.
Prof Harding said: "Once we worked out to take three-quarter strokes to compensate rather than full strokes, we were fine and the vessel seem to move very smoothly, even managing a speed of over three knots."