Eddy Shah 'did not touch girl', paper boss rape trial told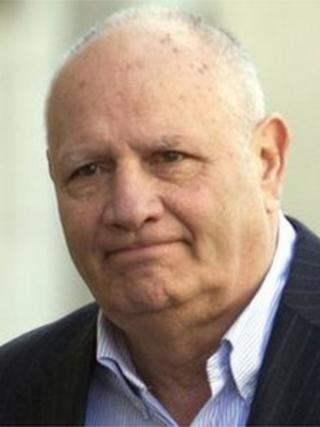 Former newspaper boss Eddy Shah "never touched" a young girl he is accused of raping, a co-defendant has told jurors.
Mr Shah, 69, who founded the Today newspaper, denies six counts of raping a girl under 16 in the 1990s.
Former escort Susan Davies, who is accused of providing a teenage girl for sex, told the Old Bailey Mr Shah had no sexual activity with the complainant.
Ms Davies and her former lover, Anthony Pallant, deny charges including rape and child cruelty.
Ms Davies, 53, of Swanley, Kent, denies 14 counts of aiding and abetting rape, indecent assault and child cruelty.
She told the court she took the teenage girl to meet Mr Shah, from Chippenham in Wiltshire, at hotels in London because he was a "gentleman" and could have a positive influence on the teenager.
'Helping' relationship
"With hindsight it was a stupid decision," she said.
Ms Davies's barrister Paul Jackson asked her: "Was there any sexual activity with her on either occasion?"
"No, not at all, it didn't happen," she replied.
The court heard Mr Shah paid Ms Davies as an escort for several years but she discounted the business aspect of the relationship.
She said: "He bought me a Pierre Cardin watch for my birthday. I didn't think of myself as an escort after that.
"I was a friend of his and he was a wealthy man and I wasn't and I thought he was helping me. I didn't feel he treated me like an escort."
Ms Davies also denied providing the girl for sex to her former lover Mr Pallant, who denies six counts of rape and indecent assault.
It is alleged Mr Pallant, 53, of West Malling in Kent, abused the girl in hotels and his flat but in court Ms Davies said: "It's not true, it never happened."
As well as founding the now defunct Today newspaper, Mr Shah now owns and runs golf courses, leisure centres and hotels.
The trial will resume on Friday morning.