Police commissioners running fire services 'should be debated'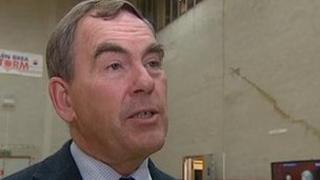 Proposals that police commissioners should run fire and ambulance services should be looked at, the commissioner for Devon and Cornwall has said.
Home Office Minister Damian Green told a committee such a move should be considered as it was a "sensible thing to look at" to make efficiencies.
Commissioner Tony Hogg said "nothing really should be off limits" because public money was tight.
And he said the role of local councils should be debated.
Mr Green made the commissioner suggestion to the House of Commons' Home Affairs Committee.
He said nothing had been decided on going forward with such a proposal.
Mr Hogg, who was elected last year to his post, replacing the local police authority, said: "We face the next round of government savings just around the corner. We'll get some of that knowledge around June.
"I think we need to have a sensible discussion about all these issues. Nothing really should be off limits.
"But we also would need to query if it should be a role for police and crime commissioners, albeit re-titled, or for local authorities.
"That debate should be had as well."
If such a move was approved, commissioners might have to share the responsibilities with their colleagues in other areas.
The counties' emergency ambulances are operated by the South Western Ambulance Service Foundation Trust, which covers an area from Gloucestershire down to Cornwall.
Devon's fire service also covers Somerset.